What would happen if a homeschooling family went around the country in a yellow school bus interviewing people about the public school system? What would they find? The father, and film maker, Colin Gunn, spoke with teachers, administrators, and other education experts about the issues with today's public school system. Great Commission Films documentary "IndoctriNation" takes a political, social, and informative look at how our nation's children are educated.
More than that, the premise is that the public education system is so broken, so full of evil, that all Christians should just give up and go home. Quickly. While there is still time to save your children and family values.
IndoctriNation: Public schools and the decline of Christianity in America
Cast: Colin Gunn, Voddie Baucham, Geoff Botkin, Scott Brown, Samuel Blumenfeld, Tom Davis, Col. John Eidsmore, John Taylor Gatto, Ken Ham, Erwin Lutzer, Doug Phillips, Howard Phillips, Bruce Short, R.C. Sproul, Jr., Kevin Swanson, and many more.
Directors: Joaquin Fernandez and Colin Gunn
Producer: Great Commission Films
Genre: Documentary
Website: IndoctriNationMovie.com
The movie shows, after case after case, that many adults today believe that separation of Church and State means that there should not be any teaching of any religion at all. They want schools to be "neutral zones" where all ideas are welcome. Gunn discovers that by taking Christian beliefs in all its forms out of the school we still have a religion, a state mandated one. Humanism. Socialism. Anti-Christian thoughts and beliefs are encouraged by the leaders at the head of the table and the parents not even in the room. They won't call it indoctrination but by the news reports of Common Core being thrust upon government schools one can see where this is leading.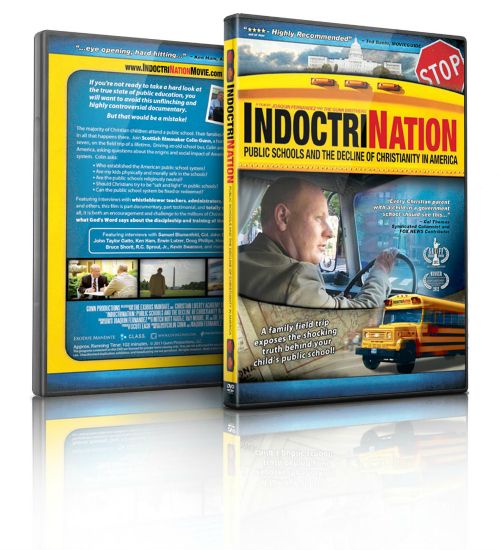 Four Things I Took Away
1) Children spend more time in school then they do with their families. Who do you think has the greatest influence over your child? One young woman had been in a private school her entire life. She was active in sports and academics. She tells how kids would talk back to the teachers in the classroom but their hands were tied to do anything. The bus rides home were full of fighting, drugs, kids making out, and were unsafe. She never told her parents because they believed that by sending her to a private religious school they were doing the best thing for her.
2) Many Christian parents believe that they are sending their children to public schools to be salt and light in the world.
How many public school kids do you know that go saved from the testimony of a Christian classmate?
How many Christian children came back to their parents filled with drugs, sex, alcohol, and Atheism?
If you send your kids to Caesar don't be surprised when you get Romans back. Children spend more time in school then they do with their families. Who do you think has the greatest influence over your child? You or a stranger? Only you know your child best, don't settle for less than that.
3) The "not in my back yard" syndrome.
People believe that the bad things aren't happening in their schools. Those things happen in "those" schools… out there… far away. The community of Columbine is an upper middle class suburb. People from the area were interviewed and spoke about how that day changed their perception of just how "good" their school was. Even evil happens to "good" people. What was the worst was the the teachers and administrators knew the problems but their hands were tied by legalities. School bullying and school violence are on the rise every day. It can happen in your backyard.
4) This Isn't Your Parents' Schoolroom
It doesn't even resemble what your's was like. One of the scenes is from a grade school class where the teacher presents a book on "My Two Mommies" and asks the kids to get into groups to discuss the book. He clearly gives his opinion before letting them go. We watch in amazement, sometimes horror, that the children are almost expected to come back with the same viewpoint. The other children chide one girl until she finally relents and lets the majority sway her. So much for keeping, and being allowed to keep, an open mind.
The movie dragged on and on. While Mr. Gunn's Scottish accent is pleasing to listen to I feel like he began to rail like a Bible belt pastor on Easter Sunday. I felt like screaming, "I get it! I am one of you. Leave me alone." Sometimes you can capture more flies with honey. Is Mr. Gunn preaching to the choir or trying to get new converts? If the latter then he needs to re-edit this movie and present his case before stating his beliefs. His research and subjects interviewed were impeccable and varied. He interviewed believers on both sides, the Christians and the Humanists.
His solution to the problem of government schools is for Christians to bring their kids home and homeschool them. Homeschooling is also on the rise, especially with the implementation of Common Core. Parents want to raise their children their way. What is surprising is that they aren't all Christians. I think what Mr. Gunn showcased was that Americans want government to be what it was once, for the people by the people, all of them and not just the loud few.
You can find the movie on all social media channels
You can purchase a DVD or download the movie from their website for $19.95. It is available in both Spanish or English. There is also a 372 page paperback book that chronicles the details of the journey and research that was done for the movie.
Head's up! I played the movie for my entire family. After five minutes Logan asked if he could leave. He said the movie was too upsetting. J only stayed for the next twenty minutes. They are both teenagers. I would strongly suggest that anyone under the age of 15 not watch this. The movie runs at a rampant pace, there are instances of bullying, and in this story David does not take out Goliath. In fact, this monster keeps coming back with an even bigger bat.
Later they both thanked RestaurantMan and me for homeschooling them. They would not want to be in that kind of environment and are really glad they can learn at home. The next day they both worked really hard without my having to remind them to focus. Sometimes it takes seeing what you freedoms you have being taken away in order to appreciate them even more.